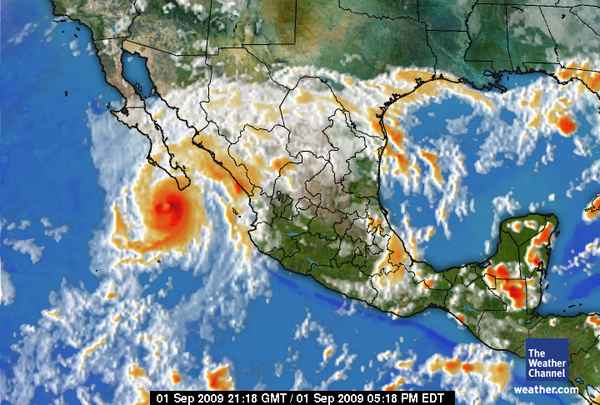 As the storm had been gaining strength, major preparations got underway in Cabo San Lucas and La Paz, as well as the coastal areas thought to be in or near its path. The military were mobilized to deal with the aftermath of flooding and storm damage to roads and infrastructure. Medical teams were on the alert and the power company mobilized teams to outlying regions to deal with the inevitable power outages.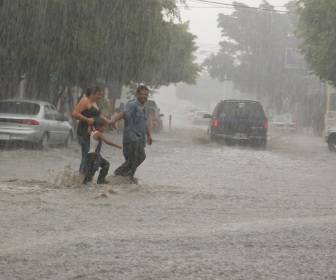 On September 2, 2009, Hurricane Jimena made landfall near Puerto San Carlos, much farther south on the Pacific Coast of Baja California Sur than expected. Fortunately, when it did hit land, it did so as a Category 2 hurricane and not the Category 3 that had been anticipated. Over a number of hours, it diminished to a Category 1, with sustained wind speeds of 85 mph. It left a path of destruction along the Pacific side in the towns of Puerto San Carlos, Puerto Adolfo López Mateos, Cuidad Constitución and north to San Juanico.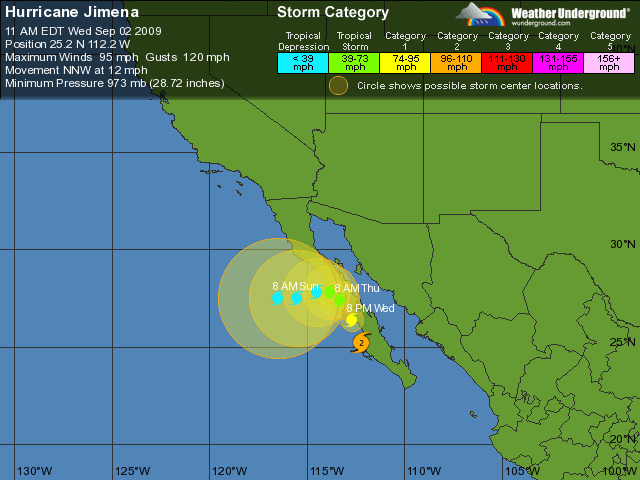 Instead, Jimena headed north over land, dumping rain and blowing down poles and buildings in the Comundú region and Loreto. It was clearly on a collision course with Mulegé and Santa Rosalía. While the news agencies and others were breathing a sigh of relief and happily reporting that the resort areas of Cabo San Lucas and the capital La Paz had been spared by the storm, Hurricane Jimena continued to plow relentlessly onward towards less populated, but no less important, areas of the peninsula.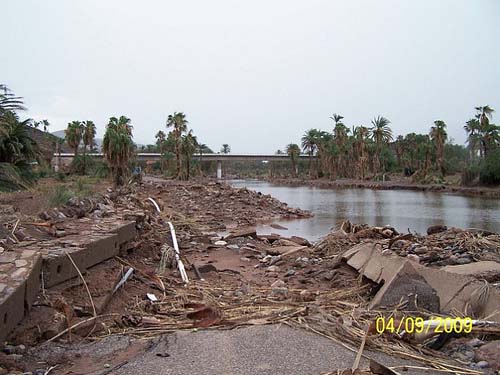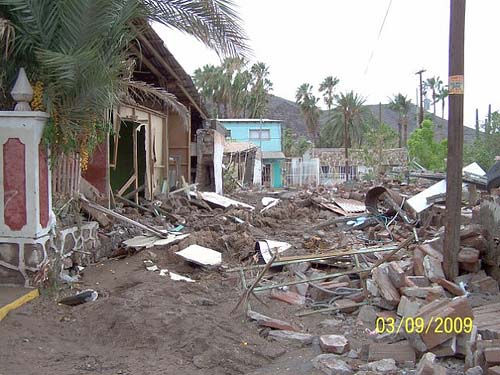 About 300 families are thought to be homeless.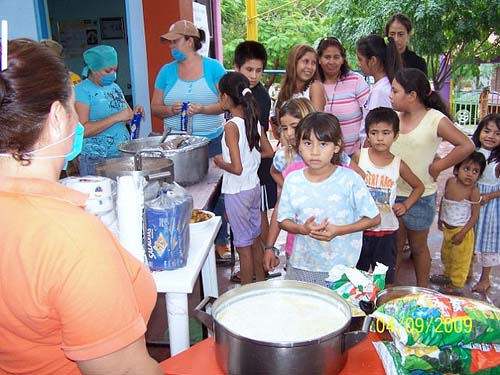 The town of Santa Rosalía, with a population of just over 10,000, was also severely affected when a flash flood roared down the main canyon in which most of the town is located. Vehicles were washed out to sea and buildings were flattened. Official estimates suggest that about 40% of the buildings in Santa Rosalía were damaged.
Highway access is only just opening up 3 to 4 days after the event. Airstrips nearby have damage to the runways or access roads are impassible. In the early stages of the aftermath, food, water, clothing and medical supplies are trickling in. Much help will be needed as so many families and individuals have lost not only their possessions, but their homes and businesses.
Hurricane Jimena began life as Tropical Depression 13-E on August 28, 2009 off the coast of Michoacán, Mexico.

Three days later, by 8am PDT on September 1, Jimena was located about 140 mi SSE of Cabo San Lucas and had maximum sustained winds of 145 mph. It was a Category 4 hurricane on the Saffir-Simpson scale.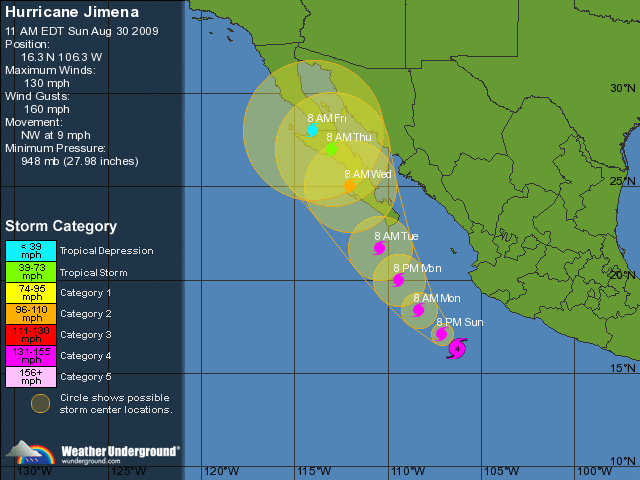 Projections varied as to what its path would be and its intensity when it made landfall. The early projections had Jimena staying to the west of the peninsula, making landfall around the north of Bahía Magdalena or even farther north at San Juanico (see map above) as a Category 3 (max. winds 111-133 mph). Once it reached land, it would lose much of its energy and might cross the northwestern portion of Baja California Sur before heading west out over colder Pacific waters.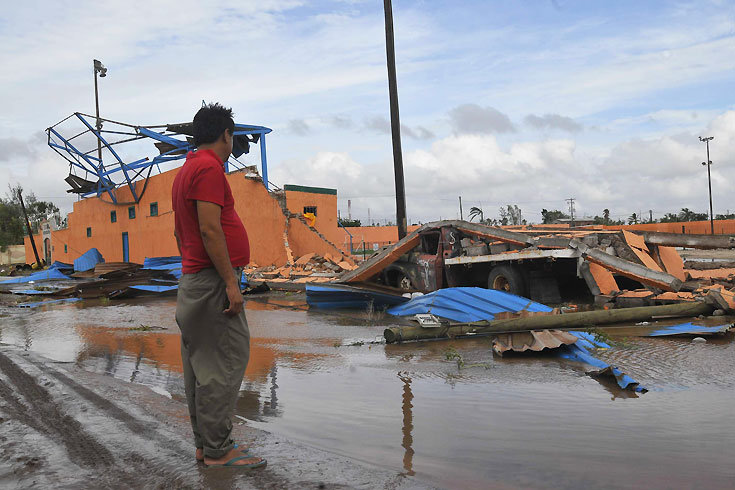 The projections continued to show Jimena making its way up the Pacific coast of the peninsula, leaving land briefly before making a second landfall near Bahía Asunción then still veering off harmlessly into the Pacific (see map, left). But, as Mother Nature is wont to do, it did not follow the predicted course (see map, below).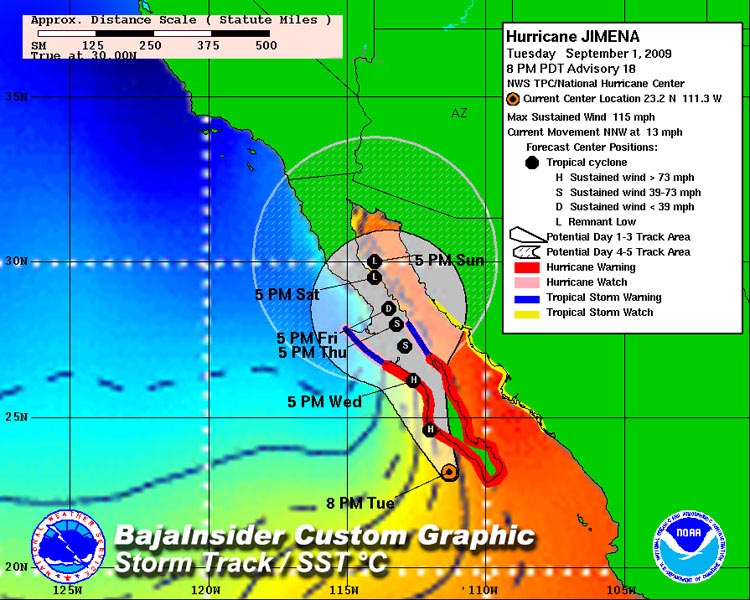 On September 3, after having been lashed throughout the day and night by the Category 1 hurricane, the town of Mulegé, with a population of about 5,000, was then inundated by a flash flood.
In 2006, Hurricane John had flooded the river valley and flood waters had reached to about 21 feet under the bridge, or about a meter below the main expanse. This year, it is believed that the water was about 32 ft above normal and at least several feet over the top of the bridge's rails. Official estimates* at this date suggest that about 85% of the structures were damaged by either the hurricane (wind & rain) or the ensuing flood. Only one death has been confirmed.