| | |
| --- | --- |
| Turtle Facts | Datos sobre las Tortugas marinas |
| | |
| Weight: 80 – 880 lb (adult) | Peso: de 80 a 880 libras (adulto) |
| Size: 2.5 ft – 9 ft long (adult) | Longitud: de 2.5 a 9 pies (adulto) |
| | Edad: de 50 a 100 (¿o más?) años |
| Food: crustaceans, jellyfish, sea grass, algae and sponges (species dependent) | Alimentos: los crustáceos, pastos marinos, medusas algas y esponjas (depende de la especie) |
| Migration: 5600 miles (Loggerhead) | Migración: 5600 millas (Tortuga amarilla) |
| Age of sexual maturity: 15-30 years old | Edad de maduración: entre 15 y 30 años |

Did you know?

¿Sabías qué?

It is estimated that only one in 1000 turtles survive to reach reproductive age.

Se calcula que solamente una entre cada mil tortugas alcanza la madurez.

Black market trade results in the death of approximately 30,000 turtles each year in California, and northwest Mexico alone.
Once they leave the nest and head to sea, male sea turtles will normally never come ashore again in their lifetime.


Green sea turtles have been known to hold their breath for up to 5 hours.
Sea turtles are extremely sensitive to the earth's magnetic field and use it to navigate.
Leatherback turtles can dive up to 3200 ft.

El comercio furtivo resulta en la muerte de aproximadamente 30 miles de tortugas cada año sólo en California y el noroeste de México.
Al brotar del nido y entrar al mar, las tortugas machos generalmente nunca jamás caminarán en la tierra fuera del mar.
Las tortugas prietas pueden contener su respiración hasta 5 horas.
Las tortugas marinas son muy sensibles al campo magnético de la tierra y lo utilizan para navigar.
La tortuga laúd puede zambullirse hasta 3,200 pies de profundidad.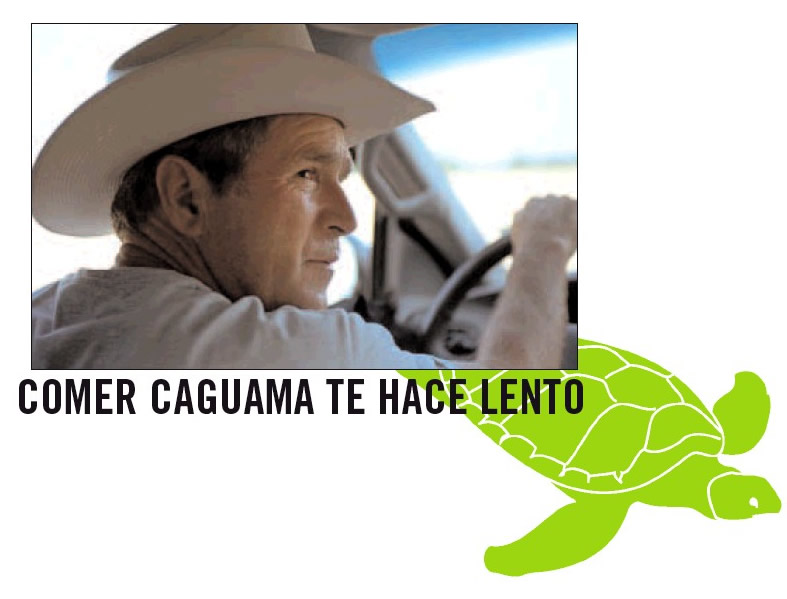 "Eating sea turtle makes you slow" (And ain´t he the expert on that!)
Ick! I don't want to eat
turtles or their eggs

they are contaminated with heavy metals (cadmium, lead…)
Green turtles can have herpes and papillomatosis
their flesh and eggs are very high in cholesterol
they have cooties!! (internal parasites)

Me da asco. No quiero comer las
tortugas ni sus huevos

son contaminadas por los metales pesados (el cadmio, el plomo…)
Las tortugas prietas sufren de herpes y papillomatosis
la carne y huevos contienen altos niveles de colesterol
¡Son infestadas por parásitos internos!